Lexus Entertain You
Kingo (actor Kumail Nanjiani) from Marvel's upcoming Eternals is all action and adventure from the driver's seat of a Lexus IS 500, in a challenge to find the perfect parking spot. The LA team, led by Alex Thomas, worked closely with Bullitt directing duo, Anthony and Joe Russo, and Anthony Leonardi, to bring the cinematic sequence, complete with Marvel storyline "Easter eggs," to life.
Borders? Don't Bank On It
In collaboration with director James Rouse, the LDN IA team delivered HSBC's new campaign 'Borders', featuring comedian Richard Ayoade. Colourist Beau Leon provided the grade, and the campaign earned the 'Ad of the Day' accolade from The Drum.
Walmart Bee-lieves in Plant Power
Working with FCB Chicago and Director Anh Vu of Framestore Pictures, the CHI team delivered a dizzying journey of a bumble bee, buzzing to one of Walmart's luscious pollinator gardens. Beautifully finished with a colour grade from Beau Leon.
---
Method News
In A While, Crocodile
Deadline shared a casting announcement for Method (MEL) feature Lyle Lyle Crocodile this week, as young up and comer Lyric Hurd joins acting heavyweights Javier Bardem and Constance Wu. Filming began earlier this year in New York, and a release date is currently set for November 2022.
Suits You, Shazam 2
A behind the scenes clip from Shazam! Fury of the Gods gave us a peek at the updated superhero suit for Zachary Levi's titular DC Comics hero. We can't wait to see what the Method (VAN) team get up to in this sequel.
---
Awards
Shark Awards
Some fin-credible news from the Shark Awards this week, as Jingle Jangle scoops Bronze for Best Title Sequence, and Sheba wins Silver for Best CGI/VFX. Congratulations to both teams on these fantastic achievements!
Immortal Awards
The jury have selected Facebook – Skate Nation Ghana as a US Finalist, sending it to a regional North American round of judging on Friday 15th October. Congratulations to Simon Bourne (LDN), who provided the grade, and colour producer Chris Anthony (LDN). Fingers crossed for the final round!
Read more about it here.
---
Press
Bond for Glory
Daniel Craig's final turn as James Bond has been crushing it at the box office. No Time To Die banked more than any other 007 film in its first weekend, and became the biggest movie of the year after only four days in cinemas. Read more here.
VFX Voice
The latest issue of VFX Voice features some familiar Framestore faces, with Global Director of Animation Michael Eames (LDN) discussing the intersection of live action and animation, while CCO Tim Webber (LDN) and VFX Supervisor Christian Kaestner (MTL) discuss all things virtual production.
Televisual
Overall VFX Supervisor Russ Dodgson took time out from HDM season 3 to speak to Televisual Magazine about the ever-evolving role of the VFX Supervisor and the impact of the global production boom. Grab a copy of the Autumn issue to read more.
Bulldogs – Cast Your Vote!
Two Framestore titles have popped up in the VFX category for Televisual's annual Bulldog Awards. The Crown and His Dark Materials are both in the running, so pick your king and vote away!
---
In Other News
Framestore x London Film Festival
Managing Director – Episodic (LDN), James Whitlam appears at the London Film Festival this weekend to discuss how virtual production can impact films and series at every budget level. James joins an esteemed panel of industry peers, though sadly it looks like he'll have missed Beyonce.
Grab your tickets from the LFF website.
National Mentoring Week
The 8th November marks the beginning of National Mentoring Week in the UK, and our friends at ERIC are looking for as many people from the creative industries as possible to sign up to give 1 hour of mentoring to a young person. Sign up here.
NextGen are working with ScreenSkills to deliver a new mentoring programme for the Games, Animation and VFX industries and are looking for mentors to share their experience and coach others in the industry to help progress their careers. If you can dedicate an hour each month from November – May to mentor someone, fill in this registration form.
From Mumbai with Love
In celebration of No Time To Die hitting the big screen, The British High Commissioner to India invited MD of Mumbai Akhauri Sinha to an extra special screening event. Framestore was given a shout out from the High Commissioner for our wonderful work on the film.
A Fantastic Display and Where to Find It
Next week, a magical display of 15 foot tall wands will light up to form an illuminated walkway through Leicester Square Gardens between 6pm and 8.35pm every day, from October 13 to October 25. This The wands in this insta-worthy installation are replicas from the Harry Potter and 'Fantastic Beasts' films, just waiting to add some wizardry to your week.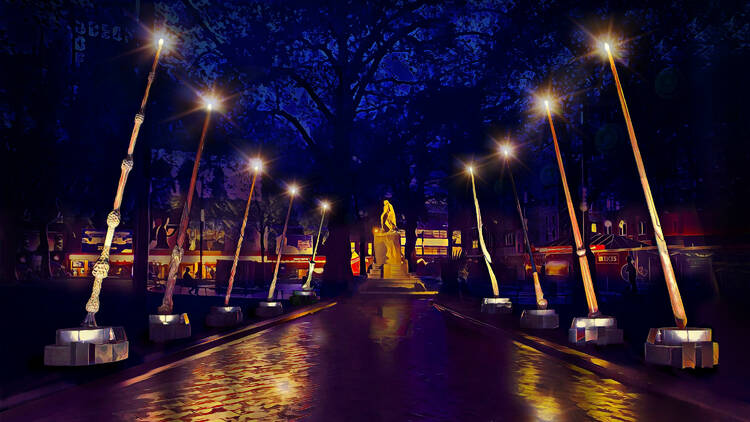 Our New Website – Have Your Say!
You've got until Monday to share your thoughts on our current website, and what you want from our new one. Fill in the survey here!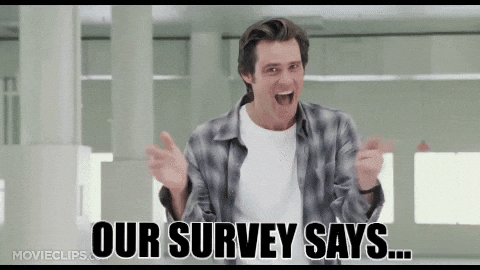 ---
Don't forget – Monday is Canadian Thanksgiving, so our colleagues in Montreal will be OOO.
Bonne Action de grâce!